There are a lot of publications out there for remodeling your house, but there is new one that is taking the Internet by storm.  Houzz.com is a collaborative platform for home remodeling and design, that is bringing homeowners and home professionals together in a uniquely visual community.  Here are just a few things you can do after signing up which is also FREE!
1. Ideabook: This is closely related to Pinterest's concept of a board, but instead it's an idea book where you can store different ideas.  You'll be able to separate kitchen concepts from bedroom concepts.  As you see in the picture below, you'll be able to pick what ideabook you want to put it in and also leave your comments on it. By using the ideabook, you can dream up your own house before ever start remodeling!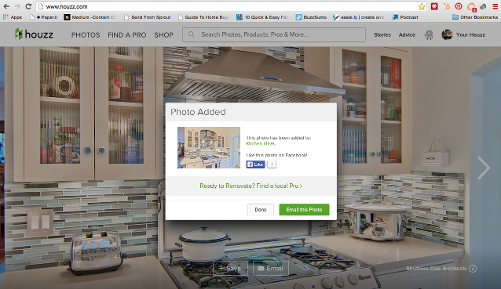 2. Stories: Houzz also shares stories from projects that people have done!  There are multple stories or updates uploaded daily, so you'll always see the freshest stories and projects.   As a user can comment and add the photos from those stories and save them in your ideabook.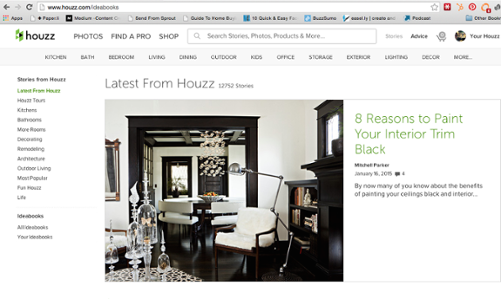 3. Discussions: Are you stuck on a project or have a question about home design?  There is an ongoing discussion happening so you can ask other houzz users for their opinions, or share your thoughts on other projects that houzz users are performing.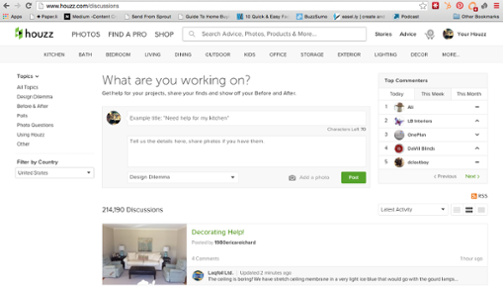 4. Explore By Categories: You can also get specific with your design ideas.. Are you looking for a way to manage all the cables or cords you have in the office?  Houzz will show you different products or solutions to organizing all your loose cables.  That isn't even the best part….. You can also buy that product right from houzz.com and have it shipped directly too you!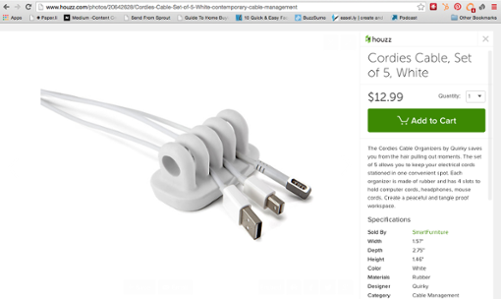 Houzz has been the go to place for home design, tips, and collaboration amoung homeowners and professionals.  If you are planning on remodeling your home, you should definitely checkout this website! Have you remodeled your home, and looking to sell?  Check out our FREE download for Tips for Selling your Home Faster.