Making the move to a new home can be very stressful and pretty overwhelming for anyone. There's so much to worry about when thinking about the moving process. Do you hire a mover? Where do you get packing materials? How much will it cost to move? As if moving wasn't enough stress, the move can be even more chaotic when you're trying to stick to a certain budget. With the purchase of a new home, money can be tight. Here's some tips on making a move when you're on a tight budget.
Choose your moving date wisely. You will want to avoid the peak moving season which is May to September. During these months it will be more expensive to hire a moving company if you choose to do that. It is less likely that the company will give you a very good bargain during these months. Weekends are also a very popular time to move, making it a more expensive time to move. If possible, it is smarter to move during the week to save some money. It will also be more expensive to move on the first or the last days of the month, so avoid those dates if possible. When you have selected your moving date, it is also important to optimize your utility shut-down dates. Some utility companies won't prorate your bill so if your billing date doesn't match your moving date, you may want to consider ending your utility services early so that you aren't paying for an extra month. This may not work for all utilities, like electric, but cutting off your cable and internet early is possible and will save you some money.
Have your moving costs estimated. Moving can be a lot more expensive than you think, so it is very important to make a list of all of your estimated costs. You will need to be prepared and know the money you will be spending, rather than being shocked when you spend a lot more than you had intended. There are many hidden costs to moving so you may need to do a little bit of research in order to get a good estimate. You may want to take advantage of a reliable, professional moving company. They will be able to get you an instant moving quote so that you have a good idea of what you will be paying.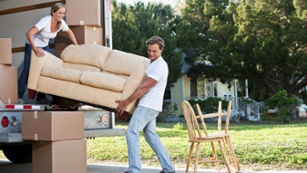 Consider a DIY move. Although making a move on your own without the help of a professional moving company may be more work, it will save you a lot of money. If you decide to move on your own there will be some costs, but very minimal. Some of the costs may include renting a moving truck, purchasing fuel, getting packing materials, and hiring extra help. Again, the DIY move may involve a little more work on your end, but if you stay organized you can pull off the move successfully and at a cheaper price.
Take only what you need. If you choose to use a professional moving company, the overall weight of your stuff and the distance to your new home are what determine the cost of your move. Moving to a new home gives you the perfect opportunity to finally clean out some of the stuff that you don't want, don't need, or haven't look at in years. It's more beneficial to do this before the move; it will make your move more organized and cheaper. This also gives you the opportunity to make some extra cash. Have a garage sale and sell all of the stuff that you want to get rid of.
Don't pay for packing supplies. Packing materials can end up being a lot more expensive than you would think. The key is to use your resources. Ask friends and family if they have any boxes that you can use or they know of anyone who would be willing to give up some boxes for you to use. You could also visit local businesses and stores to see if they have any extra boxes in good condition that they would be willing to give up for free. A local recycling center may also be a good place to use as a resource for boxes. Instead of buying bubble wrap or packing paper, use things like old towels, sheets, rags, clothing, or newspaper to keep your fragile items safe and protected. If you do decide to search out free packing material, be sure that it is in good enough condition so your items do not get damaged.

It is possible to move on a tight budget. As with any move, staying organized and planning ahead can make the move a lot less stressful and save you a lot of money in the process.