Ohio was hit hard in 2007 during the real estate collapse, and even to this day every homeowner has nightmares about it.  But then we did some research inside Ohio. And we have to be honest… The Ohio real estate picture isn't that bad, and in fact it is growing.  While it is true Ohio home vaules have not climbed back to the previous  high… that is basically a reason to buy rignt now!
Home Values Are Up: 
The median home value in Ohio is $116,200. Ohio home values have gone up 4.7% over the past year and Zillow predicts they will rise 2.8% within the next year. The median list price per square foot in Ohio is $82. The median price of homes currently listed in Ohio is $125,000 while the median price of homes that sold is $127,150. The median rent price in Ohio is $850.
The Ohio Enconomy
Ohio Economy is heavily populated with Fortune 500 businesses. More than 60 Ohio-based corporations are considered by Fortune Magazine to be the largest public companies by revenue in America. Together, they generate $504.9 million in annual revenue. Cincinnati, Cleveland and Columbus have a large number of businesses including Proctor & Gamble, Nationwide Mutual Insurance Co. and Kroger. General Mills, with eight locations in the state, employs 26,000 people in Ohio. Ohio's per capita income from to $39,289. However, the unemployment rate in Ohio is 4.8 percent, which is lower than the national average of 5.6 percent.
Realtors Have Growing Confidence: 
Ohio realtors have spoken. The REALTORS® Housing Market Confidence Index or RCMI increased 4 points from January and 10 points from this time in 2014!  While local market conditions will vary from city to city, this is great news for ohio real estate as a whole. Check out what we had to say about Lima, Ohio.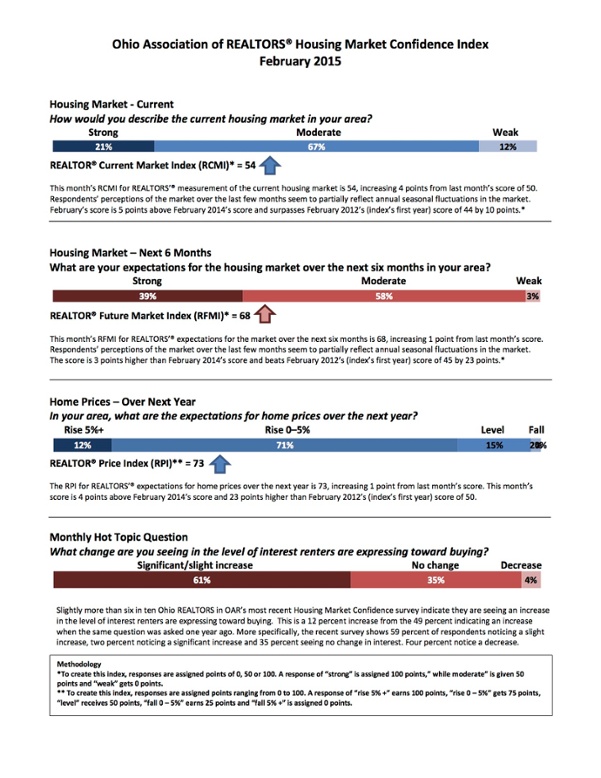 It's time to fall back in love with Ohio with real estate! Ohio home values are coming back, the Ohio encomoy is flexing it's strong muscles, and the real estate industry as a whole is feeling confident!